The conference will be held at HUONE Kastrup, Copenhagen. The address is Amager Strandvej 390, 2770 Kastrup.
Arrival by Car
From Copenhagen Airport
From Terminal 2 turn right on Ellehammervej for about 1 km. Take the 3rd exit in the round about for Amager Strandvej. Turn left and follow the Amager Strandvej for 500 meters until you reached HUONE on your left hand side.
From the Copenhagen City Centre
From city center take freeway E20 towards the airport. Take Exit 16 and turn left in the first traffic light on Amager Strandvej, turn left again in next traffic light (stay on Amager Strandvej) and drive 500 meters until HUONE is on your left hand side.
Arrival by bus
Take line 5C and get off at "Amager Strandvej (Skøjtevej) or use Line 2A and get off and Metro station Kastrup.
Arrival by metro
HUONE is located only 5 min walk from Kastrup Metro station. Use exit towards the east side of the station and walk on the road Alleen for 200 meters. HUONE is on the right side across the parking area.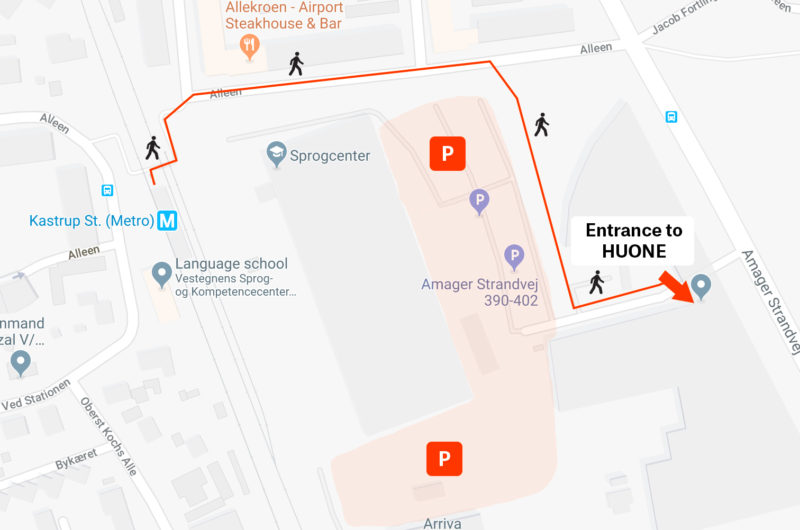 Entrance to HUONE
HUONE Kastrup is located in the south part of the building. Enter through the gate in the middle off the building and use the buildings main entrance, by the Main reception. inside the building, go past the main reception to the end of the hall to see HUONE Kastrups reception.